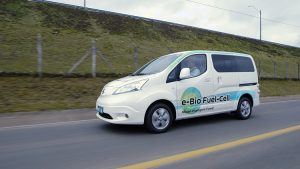 In Brazil, Nissan Motor revealed the world's first Solid Oxide Fuel-Cell (SOFC)-powered prototype vehicle that runs on bio-ethanol electric power.
Nissan president and CEO Carlos Ghosn said: "The e-Bio Fuel-Cell offers eco-friendly transportation and creates opportunities for regional energy production…all the while supporting the existing infrastructure. In the future, the e-Bio Fuel-Cell will become even more user-friendly. Ethanol-blended water is easier and safer to handle than most other fuels. Without the need to create new infrastructure, it has great potential to drive market growth."
The fuel cell prototype forms part of Nissan's ongoing commitment to the development of zero-emission vehicles. Nissan already sells the world's highest-volume zero-emission car, the LEAF, and is pioneering Intelligent Mobility systems that will be deployed in a range of vehicles over coming years.
In this latest zero-emission development, the e-Bio Fuel-Cell prototype vehicle runs on 100-percent ethanol to charge a 24kWh battery that enables a cruising range of more than 600km. Nissan will conduct further field tests on public roads in Brazil using the prototype.
Check out the video.
See our gallery.