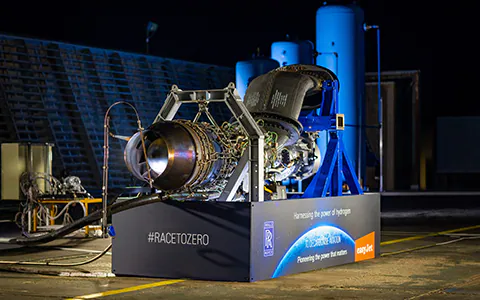 The British luxury automobile maker and the low-cost airline have announced a world first in aviation. The two partners have powered a modern combustion engine with green hydrogen.
Hydrogen mobility is not just about fuel cells and electric motors. Whether you like it or not, there is also the combustion engine that can burn hydrogen instead of fossil fuel. And this is the solution chosen by Rolls-Royce and Easyjet. The test took place at MoD Boscombe Down, a military aircraft testing site on the southeastern outskirts of the town of Amesbury, Wiltshire, England. For this purpose, an AE 2100-A engine, used for regional transport, was tested. The hydrogen was supplied by the EMEC (European Marine Energy Centre), an organisation based in Scotland. It was produced from the tides and wind of the Orkney Islands.
The demonstration was attended by Grant Shapps, the UK Government's Secretary of State for Industry and Energy, who welcomed this collaborative effort to make aviation cleaner.
Rolls-Royce and Easyjet are considering further bench testing with a jet engine. In the longer term, there will also be flight tests.
Article written by Laurent Meillaud and translated by Logan King