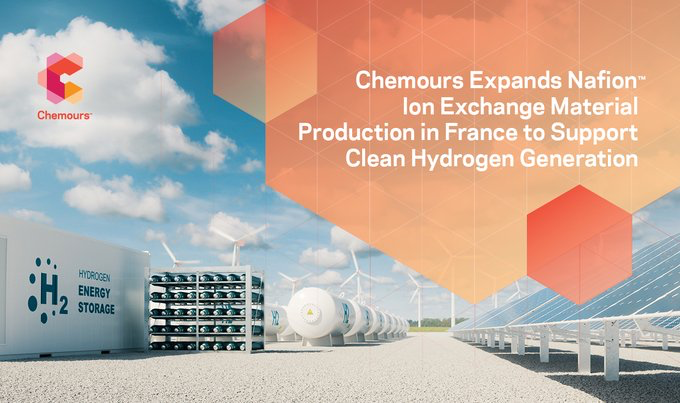 The Chemours Company wants to increase its production capacity of materials for PEM. A boon for the Villers-Saint-Paul site located in the Oise region.
If you have never heard about The Chemours Company, you should know that it is an international chemical company, leader in the market of titanium technologies, thermal and specialised solutions and high performance materials. It is also developing a materials technology for PEM membranes under the name Nafion, which are very useful for electrolysis and green hydrogen production.
The Wilmington-based company (Delaware) has plans to invest $200 million to expand its production capacity. A good news for France. The investment will be made at the Chemours production site in Villers-Saint-Paul, in the Hauts-de-France region. The group is planning a 40-hectare site, which will include the development of ionomer production and associated membranes to provide additional capacity in the Nafion materials supply chain. The site is expected to create around 80 full-time jobs and around 50 subcontracted positions in the long term.
Chemours' investment complements the efforts made in the United States to provide a reliable supply chain and robust capacity for the hydrogen economy. The company is supporting the US Department of Energy's Hydrogen Shot initiative and the regional Hydrogen Hub initiative, as well as the launch of the Clean Hydrogen Partnership and Center for Clean Hydrogen with the University of Delaware in the US. Chemours is also an active member of the Hydrogen Council, Hydrogen Europe and the Renewable Hydrogen Coalition.
Article written by Laurent Meillaud and translated by Logan King