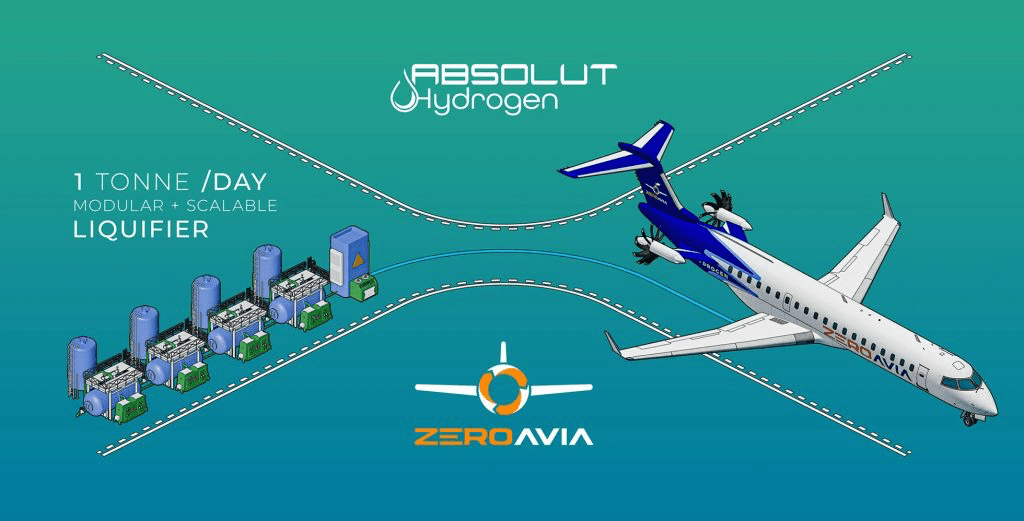 The American start-up ZeroAvia has entered into a partnership with the Absolut group for the storage and distribution of liquid hydrogen in airports.
It has nothing to do with vodka… Absolut Hydrogen is a company based in Grenoble (France), specialising in liquid hydrogen storage tanks and refuelling stations (gas or liquid). It is a subsidiary of Absolut System, whose expertise in cryogenics is used in aviation, space, heavy mobility, but also industry and research.
The partnership concluded between ZeroAvia and Absolut concerns production, storage and distribution. The aim is to develop an ecosystem in order to bring an 80-seater aircraft into operation by 2027. Absolut Hydrogen can handle liquefaction up to 50 kg/day, 100 kg or 1 tonne.
Until now, the American start-up has favoured gaseous hydrogen for its 19-seater aircraft. However, to power aircraft with 40 to 80 seats, the only option is to use liquid hydrogen. This kind of storage provides greater energy density and allows both more passengers and flying over longer distances.
Do you want to learn more about ZeroAvia? You can read our latest article about the company here.
Article written by Laurent Meillaud and translated by Logan King