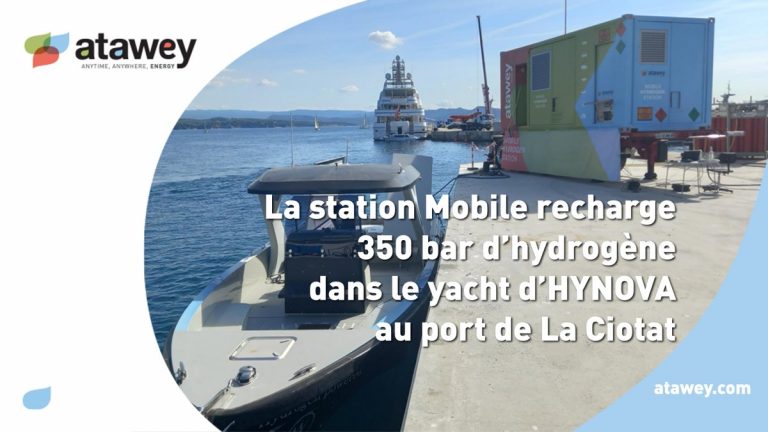 As part of a partnership with Hynova, the yacht manufacturer, the Savoy-based firm installed a filling station directly in the port of La Ciotat.
You may have heard of The New Era, the hydrogen-powered boat launched by Hynova, using EODev technology. In order to assess this demonstrator with its full hydrogen capacity, these companies called on Atawey, a company specialising in green hydrogen refill stations, to install a mobile station in the port of La Ciotat.
The mobile station delivers hydrogen where the users need it, even temporarily, which is the case of the test carried out on The New Era. The station has been developed and produced in the workshops of the SME, at Savoie Technolac, in Bourget-du-Lac (eastern France). The use of a mobile station is the perfect solution as the Mediterranean ports are not yet equipped with hydrogen refill stations, for regulatory reasons in particular.
The mobile hydrogen refuelling station was installed on Friday 23 September by Atawey's teams and made it possible to fill The New Era to full capacity for the first time.
Article written by Laurent Meillaud, translated by Logan King and reviewed by Marina Leite.