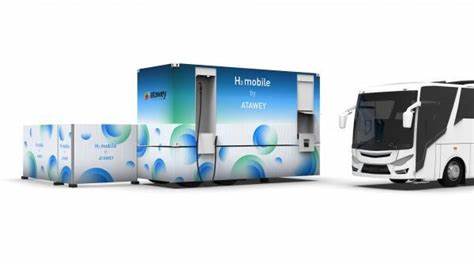 The Savoy-based company, which celebrated this anniversary in its historic premises in Le Bourget-du-Lac, took the opportunity to give its vision of the future.
On October 7, more than 150 people attended the event, including many players in the French and European hydrogen ecosystem, as well as elected officials (senators, deputies, regional vice-presidents, mayors) and business leaders.
The year 2022 was marked by the arrival of the first mobile hydrogen station, available for rental for temporary needs. In addition, there was also the creation of HYDWEY, a joint venture between Atawey and the IDEC Group to accelerate the development of low-carbon mobility solutions for business parks and real estate projects.
Jean-Michel Amaré, Atawey's founder and President, spoke about the acceleration of production resources. He announced an ambitious industrialisation plan, with a new factory to be built by the end of 2024. The BPI, a French public investment bank, and the AURA region (South-East) will be involved in the construction of this plant. The company will also have to recruit to anticipate market growth and create the skills that will be needed. More than one hundred new employees are expected to be hired by 2025. Scaling up also requires hiring teams and opening several subsidiaries abroad, starting with Spain by the end of the year.

Article written by Laurent Meillaud, translated by Logan King and reviewed by Marina Leite.