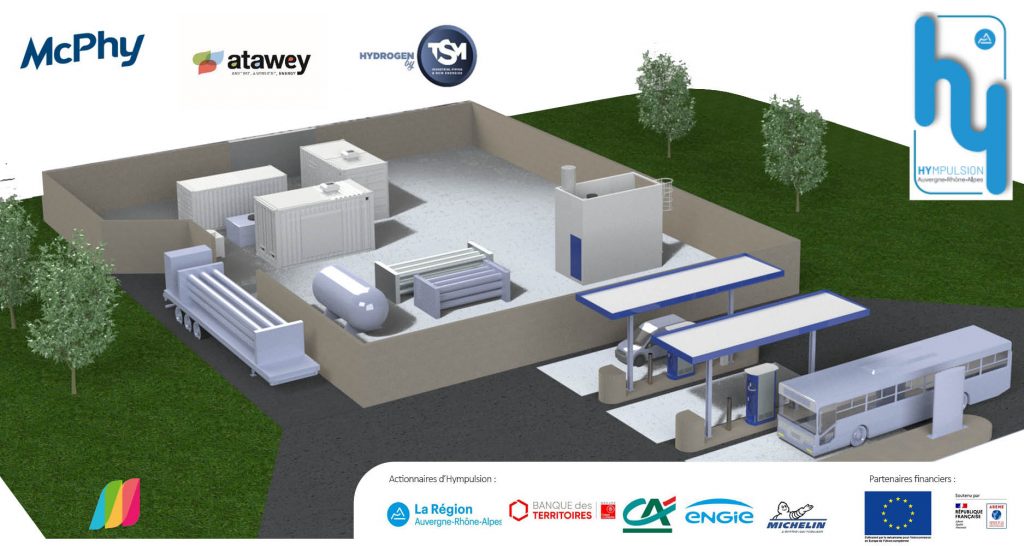 As one of the pioneers in France, this hydrogen mobility deployment project has just received additional money from ADEME.
The ZEV (Zero Emission Valley) project was launched in 2019 by the Auvergne-Rhône-Alpes region, and it is supported by Europe. Although the project had initially received a €14.9 million aid (about $16.2 million) from ADEME, the agency has released an additional €10 million as part of a new "heavy mobility" component, which was selected within the "Territorial Ecosystems" call for projects.
At first, the ZEV project expected some twenty hydrogen refuelling stations (HRS) and 1,200 vehicles. To this day, it has enabled the acquisition of 40 hydrogen vehicles. But in the meantime, the situation has changed a little and heavy mobility has entered the game, with retrofitting (buses, trucks) on the one hand, but also the regional H2 train.
This new funding will enable the Auvergne-Rhône-Alpes (AURA) Region to increase its efforts to build the Clermont-Ferrand HRS that will power the three hydrogen TER trains (French regional average-speed trains). The aid will also be allocated to the retrofit of 50 regional buses, as well as for the bus on the Lyon-Montluel regional line. It will also be used to finance the projects of the Vienne-Condrieu Agglomeration (4 retrofitted buses), the Grand Annecy (5 buses), the Arlysère Agglomeration Community (4 buses, 2 of which have been retrofitted, and a retrofitted refuse collection lorry) and the Coeur de Tarentaise Community of Municipalities (2 buses and 2 refuse collection lorries, all retrofitted). The Lyon Airport will also benefit from financing, via the coach operator Berthelet for 2 buses and the Ginhoux coaches for 10 retrofitted vehicles (coaches and buses).
A total of 80 heavy vehicles, 90% of which retrofitted, will benefit from the ADEME aid for deploying H2 mobility in the AURA region.
And that's not all. The financial aid will also benefit HYmpulsion (of which the Region is a majority shareholder) in order to finance 2 electrolysers and increase the capacity of 15 HRS so that it will be be possible to charge heavy vehicles through them. The company Airflow will also be assisted in the purchase of 20 tubular trailers that will be used for both the storage and transport of hydrogen, as well as the company GL events for the acquisition of 2 H2 generators.
Article written by Laurent Meillaud and translated by Logan King