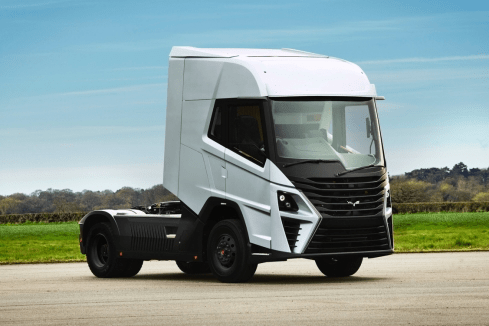 Hydrogen Vehicle Systems (HVS), a Scottish company, has just unveiled a 40-tonne hydrogen truck. The company, which had already worked on an H2 ambulance, is now tackling heavy mobility.
For this first hydrogen truck in the UK, HVS chose a specialised exhibition in Birmingham. This unnamed demonstrator claims a range of 600 km and can be refuelled in 20 minutes. The company did not give any technical details about the battery (which is presented as state-of-the-art). We do know, however, that the vehicle has an electric axle tree and a KERS system (similar to the one used in a Formula 1) to recover energy when braking.
In addition to decarbonising road transport, HVS is also working on developing a more spacious and ergonomic cabin for the driver.
The company, which is working with various partners including Horiba, and which can rely on the EG group (a petrol station operator), also plans to produce a 4×2 tractor and a left-hand drive version for the continental market.
Do you want to learn more about hydrogen trucks? You can read our last 2 articles about this here and there. 
Article written by Laurent Meillaud and translated by Logan King