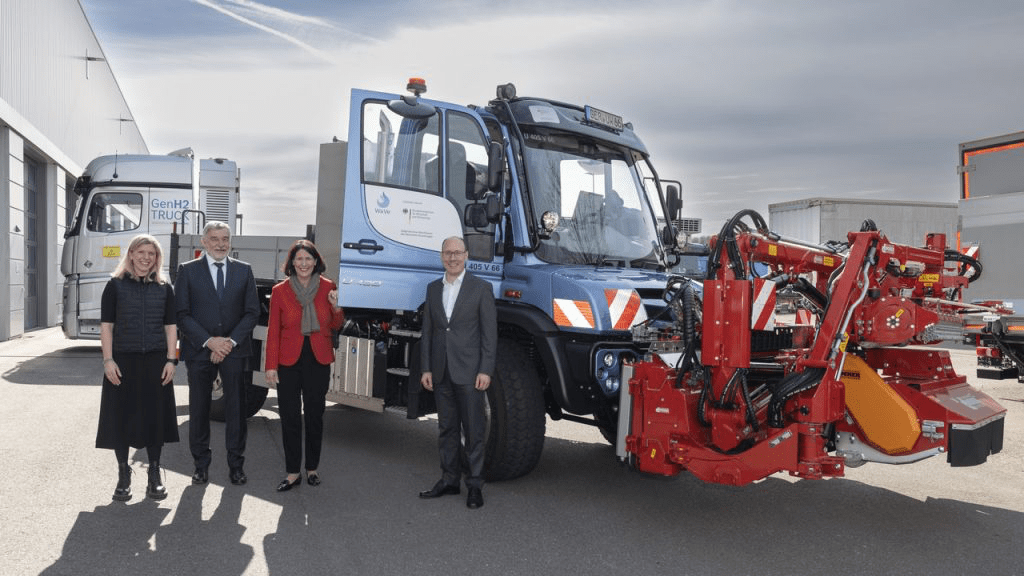 During Demopark exhibition in Germany, Mercedes presented a prototype of the Unimog based on the U 430 with a hydrogen (H2) combustion engine.
This vehicle was conceived within the framework of the "WaVe" project, financed by the Federal Ministry for Economic Affairs and Climate Action. It brings together a total of 18 partners from industry and science, including Keyou, which supplies the engine, and Hoerbiger, which produces the injectors. A first test phase of the H2 engine was conducted successfully on the test bench in autumn 2022. Consequently, the engine, the fuel tank as well as the safety and monitoring systems were installed in the Unimog earlier this year. The first driving tests were carried out straight after. In the second quarter, the prototype will be equipped with a mowing tool to obtain additional information on the working mode.
The aim of the WaVe project is to examine the extent to which an H2 combustion engine can replace a diesel engine and perform the tasks of a truck as versatile as the Unimog. The Unimog is used for mowing steep slopes at the roadside, maintaining green areas, or clearing the road in winter. Hydrogen could be an alternative power source for this vehicle. However, it shouldn't be be with a fuel cell system because of the limited space.
At the end of 2024, Mercedes will continue its research into the H2 engine.
If you want to know more about Mercedes, you can read our latest article about the group here.
Article written by Laurent Meillaud and translated by Logan King