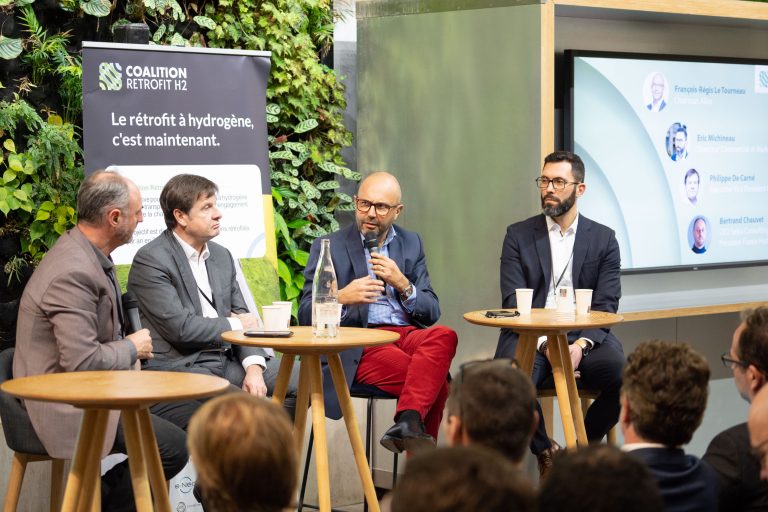 A few days ago, Hydrogen Today exclusively announced the creation of a coalition* to accelerate the decarbonisation of road transport through retrofitting. Here are a few more details and a verbatim account.
First of all, the ambition of the H2 Retrofit Coalition is to reach 10,000 trucks retrofitted to hydrogen per year in France by 2030. This will be achieved by mobilising the entire transport value chain: loaders, transporters and logisticians, equipment manufacturers, retrofitters, financiers and leasers, politicians and public administrations. It is supported by e-Néo, DB Schenker, Seiya Consulting, pHYnix, EIT InnoEnergy, Alice -Alliance for Logistics Innovation through Collaboration in Europe- with the support of the Ambassador of Green Hydrogen France 2030, Michel Delpon.
During the presentation, Jean-Pierre Riche, President of pHYnix explained that the objective was to create a network of retrofitters and maintenance garages. By attracting ) industrial investment amounting to between €30 to €50 million (between around $32.7 and $54.5 million) it would be possible, according to him, to lower costs by scaling-up. It would require both the promotion of retrofitting by committed hauliers (followed by their loader customers) and the support of the public authorities, which would also be essential to adapt regulations, taxation and aids.
During the round-table discussion moderated by Bertrand Chauvet, Founder of Seiya Consulting**, Francois-Regis Le Tourneau, Chairman of the Alice alliance, was definite regarding the "absolute need to implement decarbonised vehicles now. There is a real urgency, in terms of behaviour and technology, to move toward virtuous gestures." Philippe de Carné, Executive Vice-President of Geodis, emphasised that "we have been waiting for 4 years for the players to shed light on the possibilities of decarbonising road transport. We need to help transporters see things more clearly," he said.
For Hoang Bui, the Coordinator of the National Strategies "Decarbonised Hydrogen" and "Decarbonisation of Industry", "this initiative is aligned with the interests of decarbonisation of industry and heavy mobility. In fact, it can contribute to the development of local ecosystems through calls for projects of hydrogen hubs."
*The H2 Retrofit Coalition was founded by Jeremy Cantin, CEO of e-Neo, François-Régis Le Tourneau, Chairman of Alice, Bertrand Chauvet, President of Seiya Consulting and Vice President of France Hydrogène, Karine Vernier, Managing Director of EIT InnoEnergy France, Tariel Chamerois, CSR, Sustainable Development and Urban Delivery Director of DB Shenker, Jean-Pierre Riche, President of pHYnix, and Michel Delpon, Green Hydrogen France 2030 Ambassador.
**Editor of Hydrogen Today
Article written by Laurent Meillaud and translated by Logan King