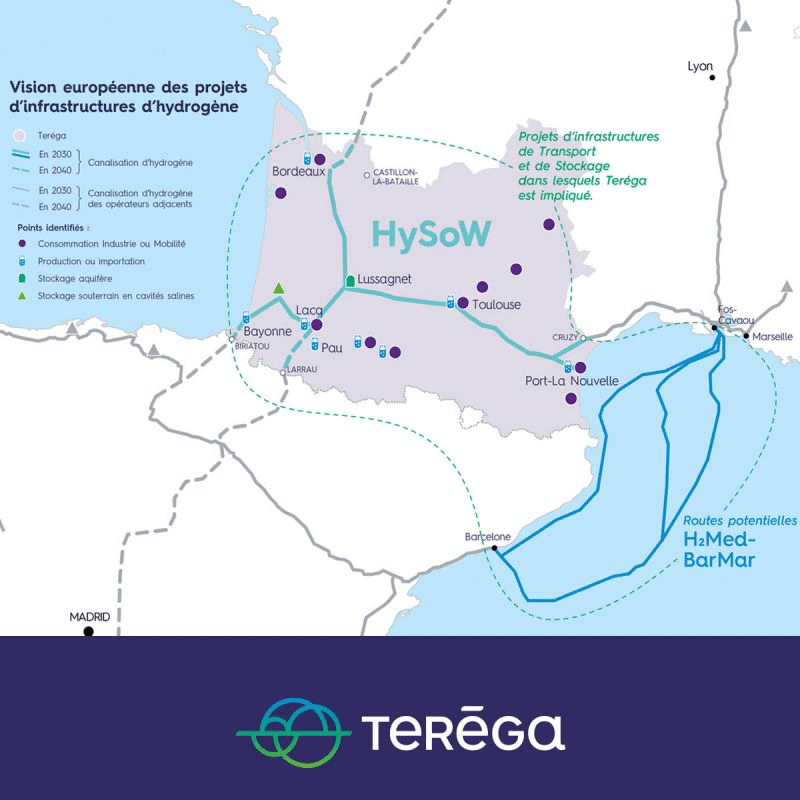 The HYSOW (Hydrogen South Sest) infrastructure project – hydrogen pipelines
As part of the H2Med project, launched by France, Spain and Portugal, Teréga manages the pipelines that connect the New Aquitaine and Occitania regions (Southern France).
Under the name of the HySoW (Hydrogen South West) project, the operator is thus taking part in the development of a hydrogen transport and storage infrastructure, with a view to the future European hydrogen backbone. This project is a candidate for the Project of Common Interest (PCI) label under the new Trans-European Energy Networks (TEN-E) regulation (EU/2022/869).
At the heart of Occitania and New Aquitaine, the aim is to interconnect the major industrial and mobility hubs, with spots such as Bayonne, Lacq, Pau, but also Bordeaux and Toulouse, with an extension to Port-La-Nouvelle. The objective is to connect these territories to the hydrogen flows produced locally, as well as to those coming from the South of Europe, the Mediterranean and the Atlantic coast (French production and imports). The scheme naturally connects France to Spain and makes the link with the BarMar project, linking Barcelona to Marseille.
This project also aims to strengthen the security of supply of the entire energy system through hydrogen storage and an H2 to Power project.
Do you want to learn more about hydrogen pipelines, Teréga and the H2Med project? You should read our latest 2 articles about the subject here and there.
Article written by Laurent Meillaud and translated by Logan King